Denise
A white pickup truck drives past our camp and turns, then turns again and comes to a stop on the opposite side of the blueberry barren. Out steps a woman. She lights a cigarette, walks to the back and opens the tailgate. She looks over the barren for a minute or two as she smokes the cigarette. Then turns, puts it out on the tailgate grabs a wooden box and her blueberry rake and walks into the berry plants 10 or 15 paces. There she drops the box and bends over and begins her day raking blueberries.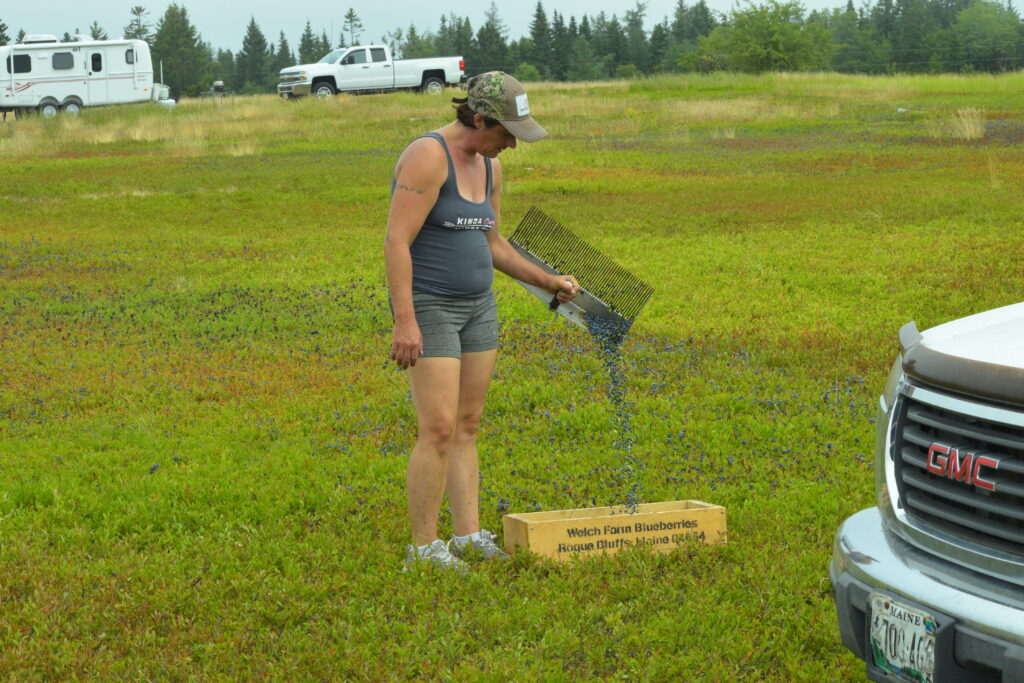 Blueberries are harvested two ways, raking by hand and by machine. The hand raked go to fresh pack, the machine harvested go to the processor. Fresh pack are the berries sold fresh at the side of the road and to Helen's. They're sorted to be the best. Everything else goes to Wyman's Berry Co. to be canned, frozen, pureed and sold to distributors. The woman in the field is Denise, Welch Farm's top fresh pack raker. She started raking at age 6. She'll rake about 6 hours a day most every day in August that it's not raining.
Here she tells us a bit about raking blueberries.
She is paid $1.75 for each wooden box she harvests. During the rest of the year she works in food service at the local college. She and her husband would like to move to South Carolina someday "because it's warm in the winter but I'll still come back in August to rake. It's my favorite thing to do."